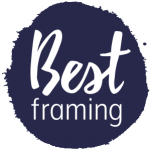 Website Best Framing
Custom Picture Framer- FITTER NEEDED
We are hiring at Best Framing in Costa Mesa! We are a busy, growing, custom framing business that creates everything for your walls and we are looking for a new member of the team. Find us on Instagram @bestframing or online at www.bestframing.com to see our work and who we are.We are looking for fitters with a minimum of 6 months experience in fitting. References and background check is required.
All levels can be interviewed and can start immediately pending success at demostrational interview:
Level 1: basic fit with conservation hinge mount, postermount, multiple openings and multiple matts, stretching
Level 2: raised float, framespace, fabric wrapped liners (seamless), plexi boxes, mirrors, OS framing, operate CNC matt cutter
Level 3: 3D Objects, Jerseys, fabric covered frame space, conservation handling and mounting techniques, OOS framing
Fulltime positions available. We require a good teamwork mentality, an openness to adopt our framing policies, and a reliable quality product output. This is a first shift position scheduled to work from 8am to 4pm Monday through Friday.
We have implemented a safe working environment for our company including a written COVID worksite plan, daily self temperature screening, and requiring facemasks for employees and customers. We have ample workspace for social distancing and take a special interest in the health and safety of our team.We offer lots of benefits such as healthcare packages (with voluntary dental), vacation/PTO earnings, holiday closures with holiday pay, employee team building activities, opportunity for bonuses, reward events, and more. We put value on a long term employment relationship and hope you do too.
Responsibilities include: framing fabrication, cut glass, mount artwork, operate CNC matt cutter, careful handling of artwork, stretch canvases, use the drymount press, wrap fabrics, float mounts, punctuality, commitment to meet deadlines, willingness to learn and work in a team environment.
Submit resume with experience to this email or call to speak with a hiring manager.
Should you receive an in person interview invite, please be prepared to fit artwork during the interview. You should be candid as to your abilities and experience with framing.
We look forward to having you on our team!