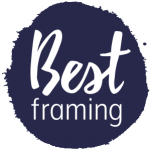 Website Best Framing
Custom Picture Framing Sales Associate/Designer
We survived the COVID shutdown and we are BUSY framing artwork! At Best Framing in Costa Mesa, we are looking for new members of our team to grow with us!The position is for a full-time Custom Framing Design Associate. Hours are currently from 9:30am to 5:30pm Monday through Friday. This is a great way to be creative at your job and work with people in a safe work environment. Best Framing is more than a frame shop, its a custom framing experience with a full on-site print lab offering prints on metal, wood, canvas, paper, wallpaper, and dye-sublimation printing. We fabricate plexi cough shields for businesses reopening in a COVID environment and are launching our new POD gallery in collaboration with local artists and designers. Come join us in our journey as creative problem solvers!
Requirements: Must have custom framing design experience, customer service oriented, punctual, reliable, an eye for design, and ability to measure precisely, computer literate, work as a team member.
Preferred: Experience with FrameReady Software, outgoing and friendly disposition, proficient in Photoshop, experience with customer account management and acquisition
We are looking to hire NOW and are interviewing.
If you think you might be a good addition to our team, are reliable, with attention to detail and design; please contact us for an interview.
At Best Framing, we offer lots of benefits such as healthcare packages (with voluntary dental), vacation/PTO earnings, holiday closures with holiday pay, employee team building activities, opportunity for bonuses, reward events, and more. We put value on a long term employment relationship and hope you do too. An incremental commission structure for the sales team is also provided for higher rewards and bonuses for our more successful team members.To protect our staff and customers we have implemented a thorough transformation of our business operations to create a safe and functioning design experience. All of our design booths have been modified with plexi shields and protective gear; appointments are made to control customer volume, and we have implemented regular cleaning routines and restrictions. We have taken every measure to create a safe work environment to protect everyone's health.
Send us your resume via CL or find us on our website www.bestframing.com
Keywords: Retail, Custom Framing, Picture, Printing, Digital, Frames, Design, Designer, Sales, Accounts, Best Framing, Creative, Inspiring, Team, Detail-oriented